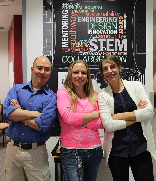 Hello, my name is Kristina Robbins. From early childhood I've always had a passion for the Arts. My understanding for design has evolved through a journey from traditional art to newer forms of media with the growth of technology and digital design software. I started exploring Animation in early 2000, but work led me in a direction of Graphic Design. I started working in industry as a designer and found the desire to pursue my creativity as a professional. In 2013 I officially launched my business, KO Illustrations, and decided to delve back into school. During my time returning to college I realized my creative journey had only just begun. I understood the value of expanding my skills in communication so I pursued a degree in Video Production while completing a degree in Graphic Design and Print Production. I graduated with honors and received the Rising Star Leadership Award for many successes I had along the way, and I continued to grow my business and my relationships in the community. I knew Multimedia was growing fast so I continued exploring new media to broaden my scope. In 2017 I was accepted into the University of Colorado Denver to work on my
BFA in Digital Design with an emphasis in Human Centered Design.

After having my daughter Olivia, who's 5 now, my business evolved—providing a broad range of Multimedia opportunities. I've worked to build lasting relationships with many well known clients. I've continued to work close with my clients, and
in January 2015 I was recruited as an instructor for the Multimedia Department at Red Rocks Community College. My
first year I was proud to launch a new program called Industry Experience; bringing client projects to the Graphic Design, Photography, Video, and other various Digital Design students. I was honored for my work by the National Society of Leadership and Success, and received the Excellence in Teaching Award in 2017.
I'm always looking for new ways to push the envelope with my work to become a better visual messenger. I enjoy exploring a new wave of communication, and connecting with
a viewer through creative multimedia experiences.
Visual communication is the key to delivering information in ways for people to understand very quickly.
I work hard to continue this creative endeavor to make visual messaging meaningful, and I seek a career
that can provide new experiences as a creative professional.